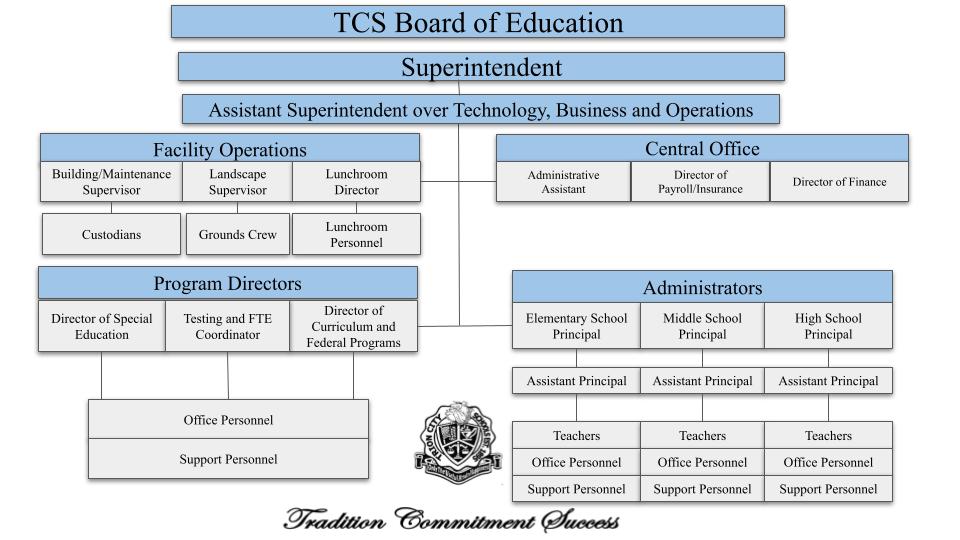 The Trion City Schools organizational chart shown above is a graphical representation depicting how all school administrators, directors, and department heads are ultimately governed by the office of the Superintendent and the Trion City Schools Board of Education.
JOB OPENINGS' INFORMATION
The goal of the Board of Education is to secure highly qualified employees needed to operate and effective and efficient school system. Because the Board seeks to employ or appoint the best persons available, the Board intends for the school system to implement effective recruitment and selection procedures that will best serve the mission of the school system.

The recruitment and selection of personnel shall be conducted in such a manner as to assure nondiscrimination on the basis of sex, race, religion, national origin, age or disability.

Available certificated positions shall be announced in writing within the school system and submitted to a state-wide online job data base maintained by the state (TeachGeorgia Website).

In operating the most effective and efficient school system possible, the Superintendent may recommend to the Board the transfer or reassignment of personnel into positions that best meet the needs of the school system. Positions that are filled through transfers or lateral reassignments shall not be considered vacant within the meaning of this policy and shall not be subject to the announcement, advertisement or any other provision of this policy.

The Board of Education office will accept applications for employment continuously for all positions, both certificated and non-certificated, and for transfers within the system. Applications on file are considered current for a period of one year and will be considered as vacancies occur.
APPLICATION OF EMPLOYMENT
Trion City Schools is an independent public PK-12 system residing in a close-knit rural community, with very strong work ethics and values. It is because of this community and its high parental support that our children have excelled in academics and athletics. The city of Trion is located within Chattooga County, approximately 45 minutes from Chattanooga, TN and 90 minutes from Atlanta, GA.


Applicants should provide Trion City Schools with the following items:

1) a letter of interest describing personal qualifications, experience, and reasons for interest in position;
2) a current resume;
3) three references; and
4) a completed application.

Additional credentials may be requested.

Materials should be addressed to:
Trion City Schools, 239 Simmons Street., Trion, Ga. 30753.

NON-DISCLOSURE STATEMENT: It is the policy of the Trion City Board of Education not to discriminate on the basis of race, color, sex, national origin, disability, or age in its employment practices. An equal opportunity employer.

To submit an application for employment:
- Print and complete the appropriate application form
- Send the completed application to: 239 Simmons Street Trion Ga. 30753